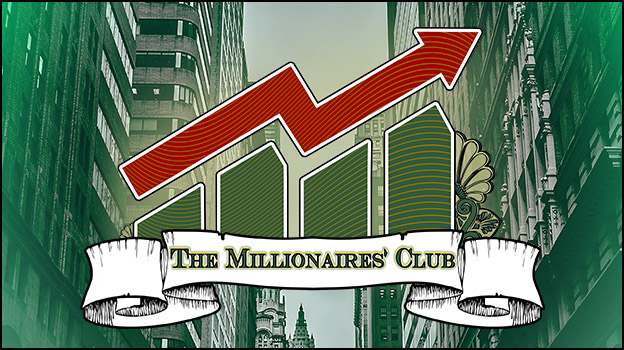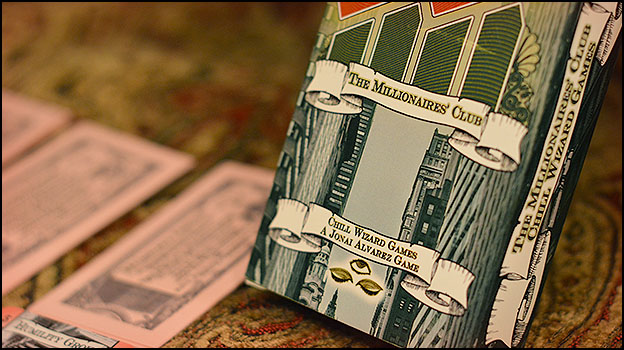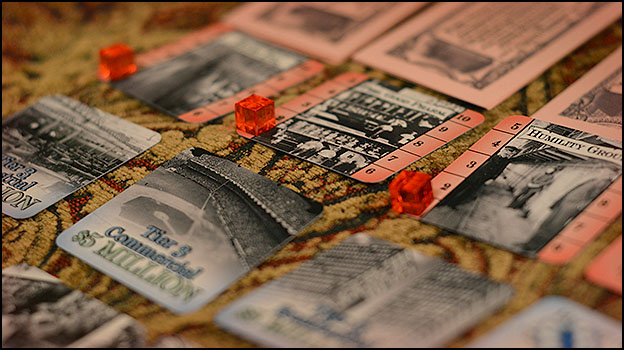 Overview of The Millionaires' Club
The Millionaires' Club is a game for 2-5 Players taking about an hours worth of time to play.
Games are played in Rounds, with Players taking Turns within each Round.
A Round starts with every Player collecting a
Crisp One Million Dollar Bill.
Players then take turns engaging in intriguing business decisions;
Competing over ownership of the largest Share of the following companies:
Boom Incorporated
Feel Good Pharmaceuticals
Humility Group

AND

Buying and Selling Real Estate Properties:
Commercial
Industrial
Residential
More expensive Properties Score Higher and are valued more:
There are larger stakes with large Estates.
The Millionaires' Club will make you feel like a wealthy entrepreneur in no time!
After every Round, the Starting Player rolls
Two 'Market Dice', One Red; One Blue;
The Red affects the Stock Market:
A Low Roll can Crash a Company,
while a High Roll Skyrockets Stock Values.

The Blue manipulates the Real Estate Property Market:
A High Roll Creates a Bubble of economic prosperity,
gaining Players a bonus Cash Pay Out! from the Bank.
Reversely, a Low Roll will Burst the Bubble ;
Forecloseing Properties, costing Players their hard earned money.
Afterwards, the Starting Player shifts
Clockwise to the next Player, Starting a new Round.
The Game continues,
Round after Round,
with Players Conducting Business and Rolling the Dice.
The Player with the highest valued Estate at the End of the Game Wins!